During the winter months, I like to tinker with a little shade tree knife making. Nothing to fancy. I made my first knife back when I was 18 years old back in 1982.
I make a lot of knives from saw blades but recently, I have been using bar stock O1 steel and doing my own heat treat and temper. I have also used some purchased Damascus blanks. I typically don't sell my knives but rather, give them away or donate them to be used as raffles or fund raisers.
I AM NOT HERE TO SELL KNIVES!!
I have more than enough to keep me busy already. I also make my own sheaths. Leather working is another great hobby. Lately, I have been doing a few restorations of old knives.
these a few of my most recent knives.
10" Table saw blade with a gun blue finish and a handle of purple heart and hard rock maple.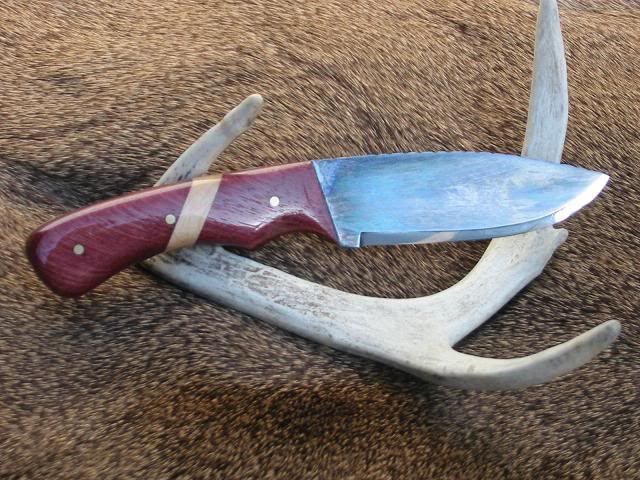 10" Table saw blade with a Bloodwood handle.
Stainless gut hook blade with elk antler and brass handle with an 8 Oz. tooling leather sheath.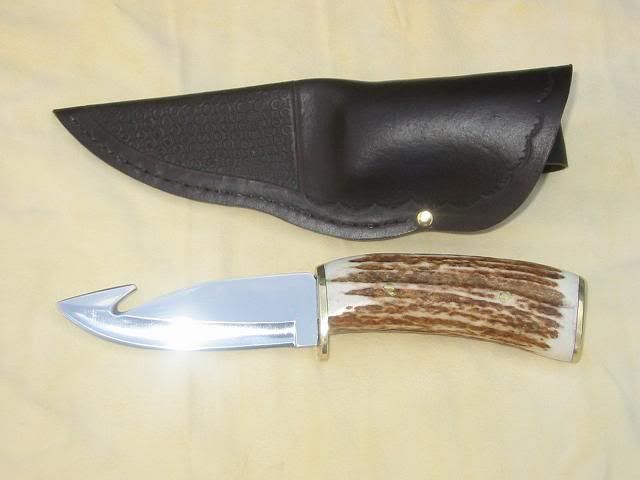 24" concrete saw blade with a curly maple handle and an 8 Oz. tooling leather sheath.
10" table saw blade with a Cocbolo handle
24" Concrete saw blade with alum. bolsters and a Cocbolo handle. I also used homemade mosaic pins.
24" Concrete saw blade with elk antler scales and a mirror blade finish.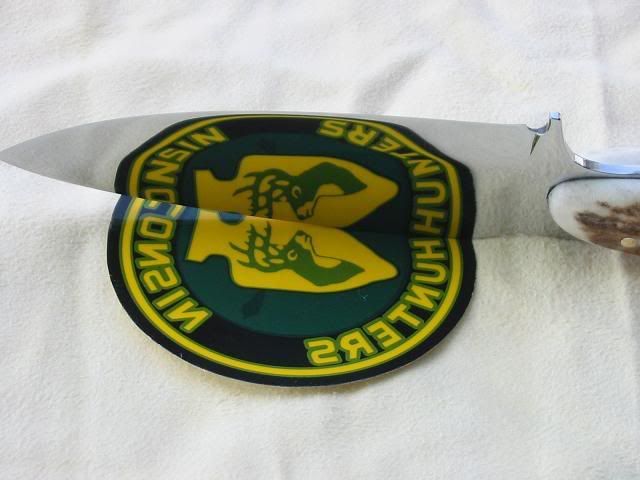 An O1 steel blade with whitetail antler handle and 8 Oz. tooling
leather sheath
O1 steel blade with a Moose antler handle with a little ink work and some blade filing. The sheath is tooled 8 Oz. leather with a moose antler tooled into the sheath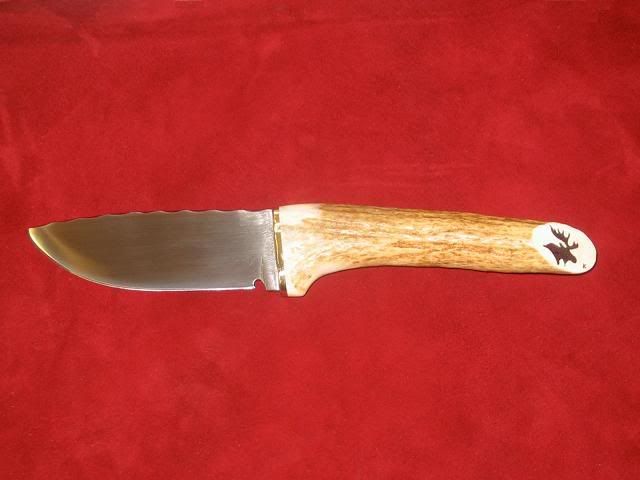 A father and son set with O1 steel blades with filing. Whitetail antler handles and 8 Oz. tooled leather sheaths.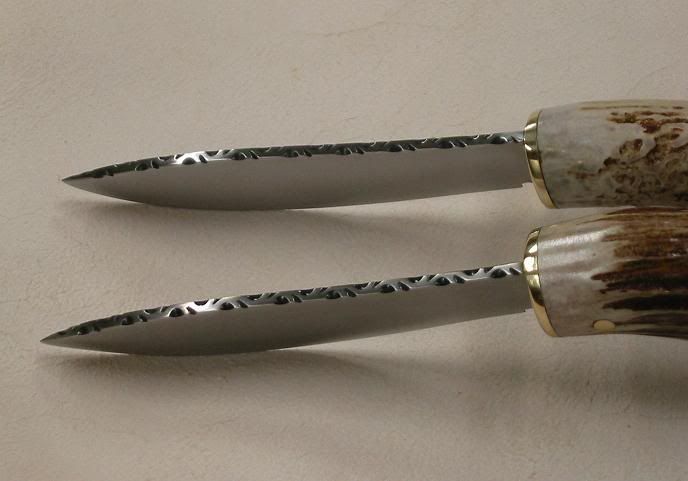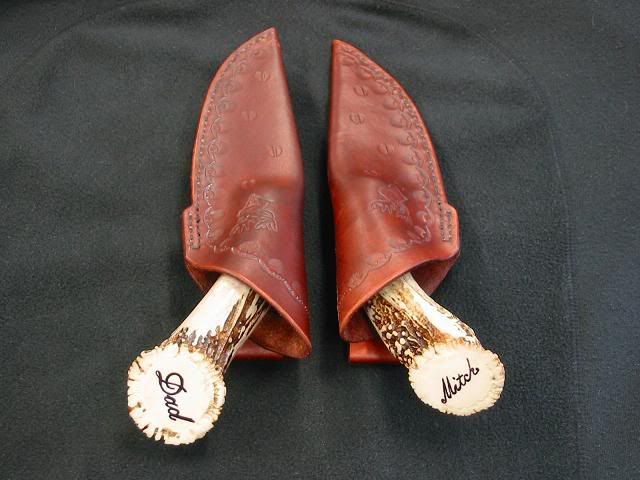 A small Bowie with an O1 steel blade with filing and a Bloodwood and brass handle. The sheath is 8 Oz. tooled leather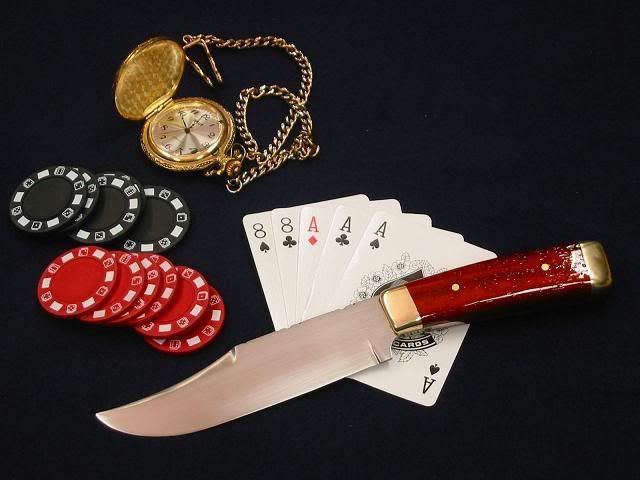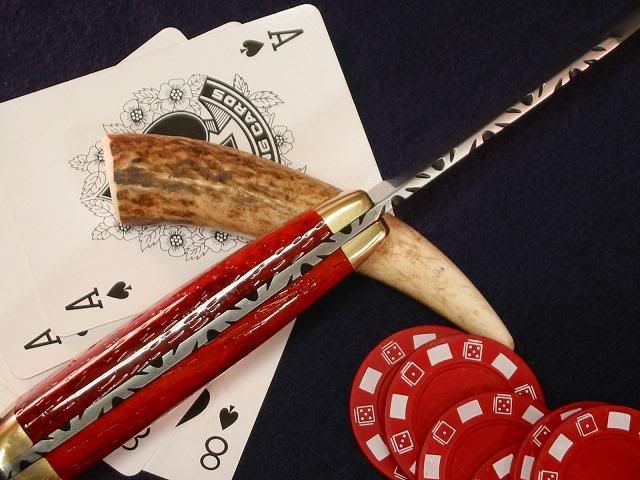 A neck knife with a whitetail antler handle and 6 Oz. tooled leather sheath.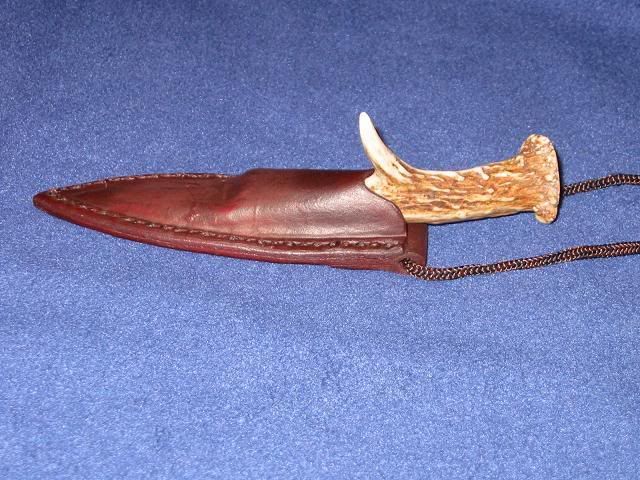 A knife I am donating to the Wisconsin Bowhunters as a fund raiser. A Damascus blade and dyed maple burl handle with WBH logo inlays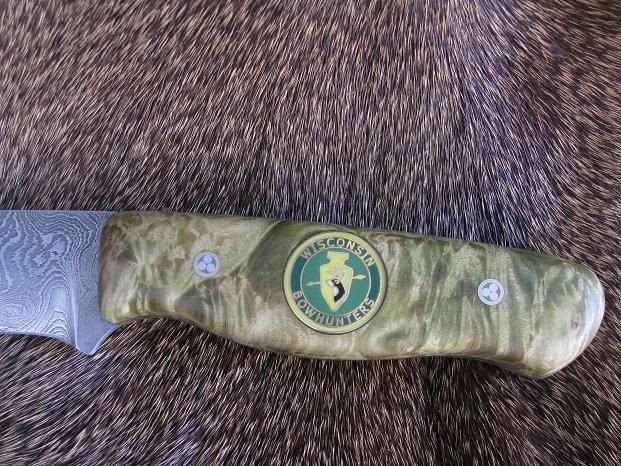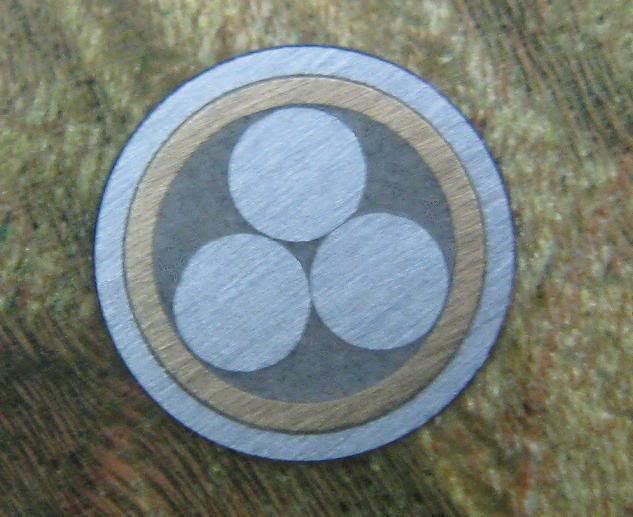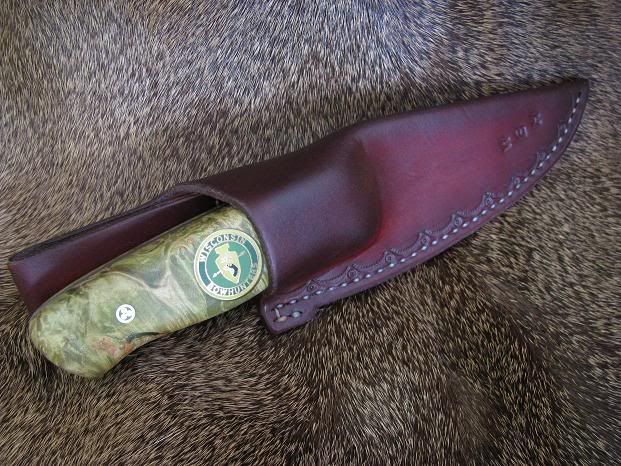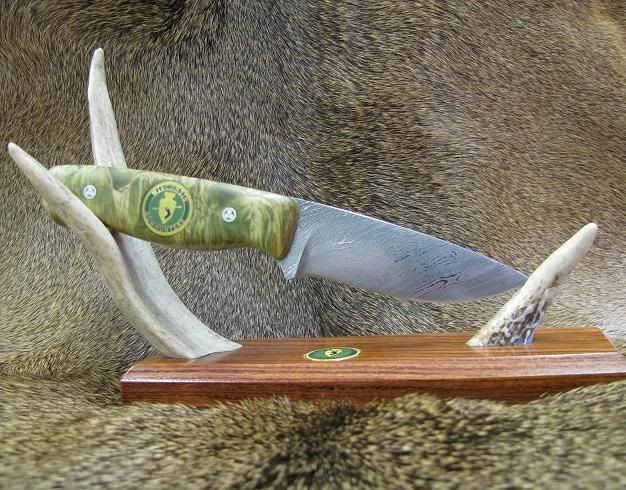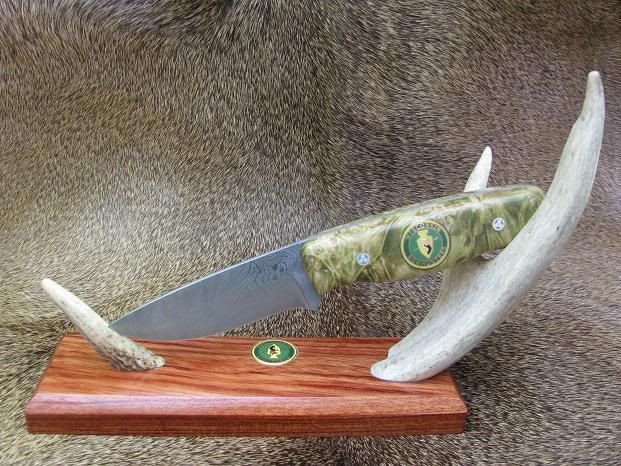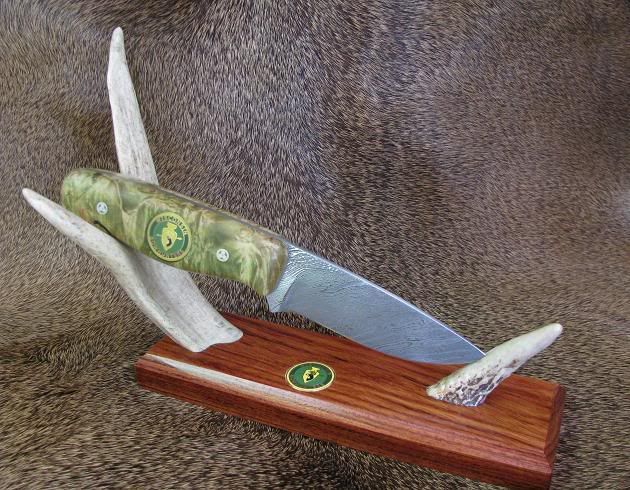 My first attempt at metal carving. O1 steel and cocobolo. The gun bluing does not photograph well.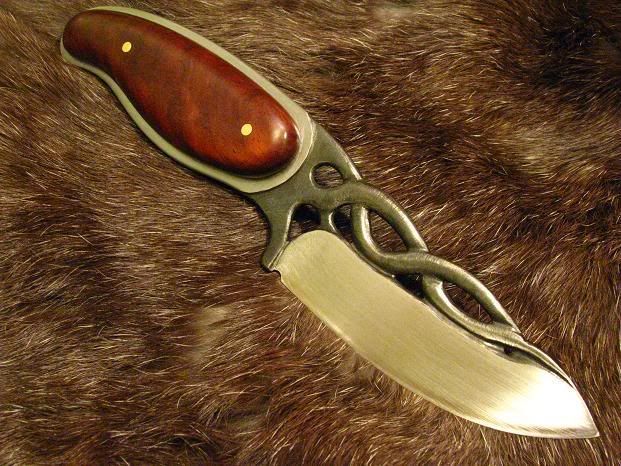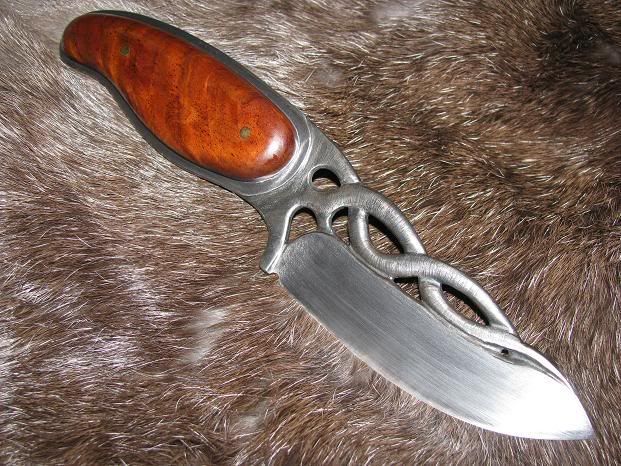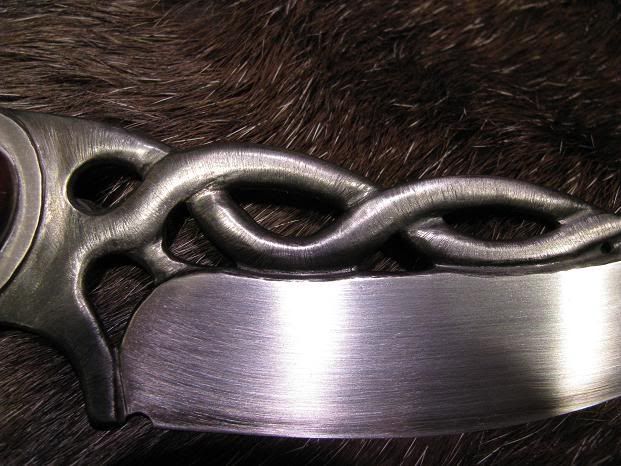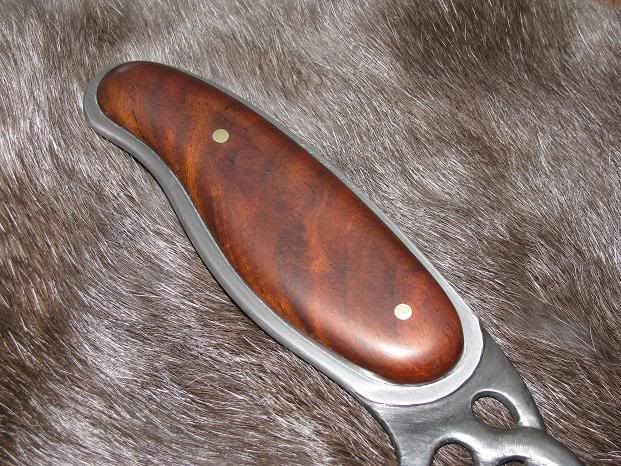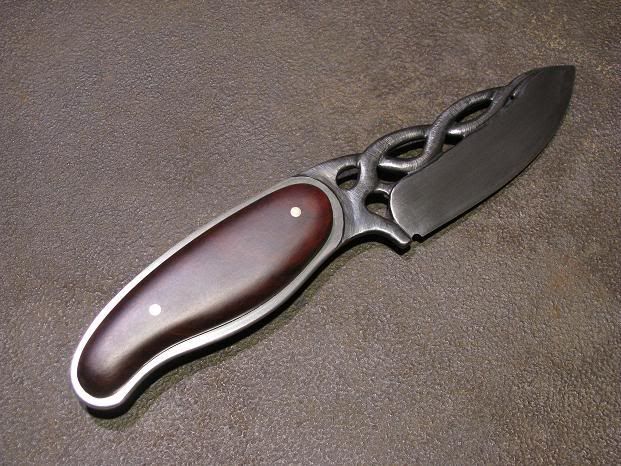 A restoration of an old German Bowie with an 8 Oz. tooled leather sheath.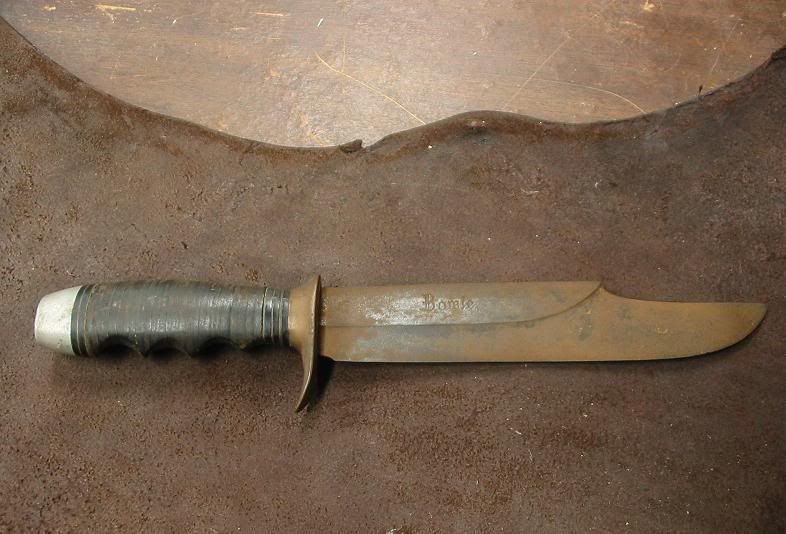 A restored knife with a missing handle and missing sheath. The handle is leftover bow riser wood call camo diamondwood. The sheath is 6 Oz. tooled leather.