Plenty of us thoroughly enjoy shooting and hunting with vintage Bear recurves. Is there anything more stylish to take into the woods than a classic 1957 Kodiak, a timeless 1959 or 1960 Kodiak or Grizzly or any of fine bear recurves right on up through the mid to late 1960s?
And, at the same time, is there any bowquiver that looks better on those old bear recurves than a well-kept Bear Leathercap 4-arrow quiver? With that sort of vintage bow and bowquiver combination, one almost feels like Fred.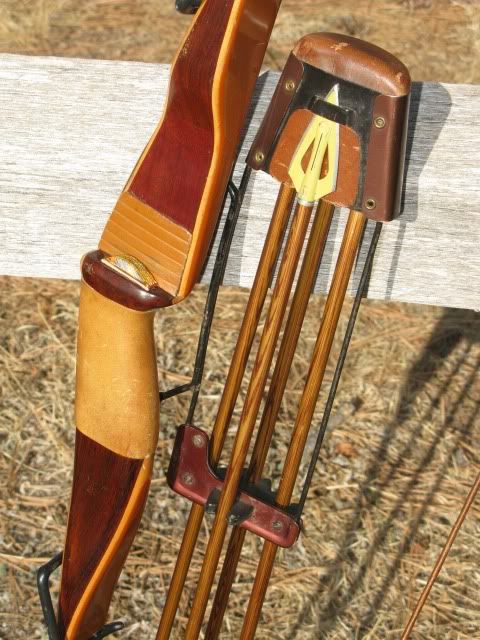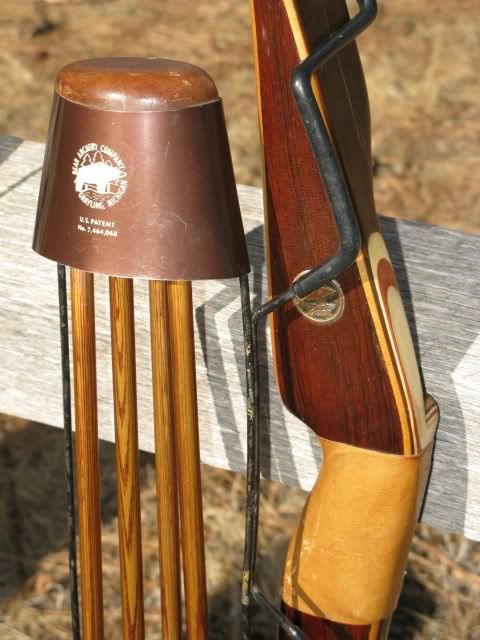 However, all is not rosy in the bowquiver department.
While a vintage Bear 4-arrow Leathercap Bowquiver looks spectacular and is period-correct, two problems exist for many of today's bowhunters using that vintage bowquiver. The first problem is shaft vibration. The second is attachment.
SHAFT VIBRATION
– With the classic Bear 4-arrow Leathercap Bowquiver, the distance between the hood and the shaft gripper is just too short to fully stabilize longer (anything over about 28 inches) hunting shafts. An actual measurement of the hood-to-gripper distance with such a Bear quiver is just 8 inches.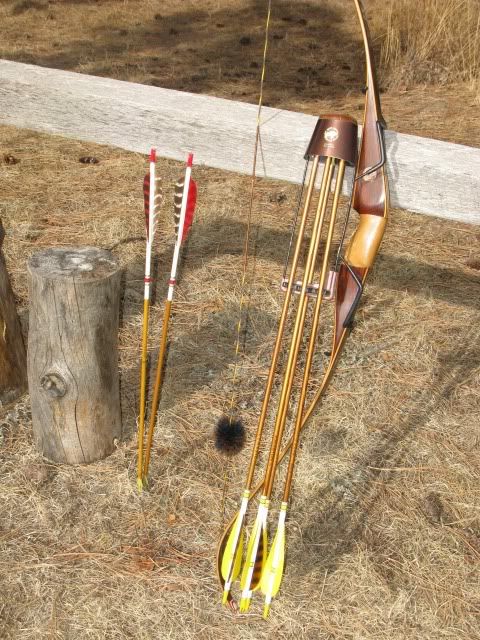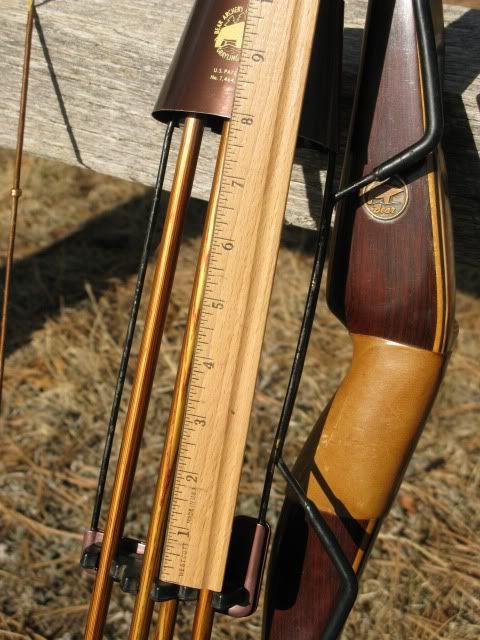 With each shot, the mostly unsupported tail end of longer arrow shafts in a Leathercap whip and vibrate unnecessarily, making normally quiet old recurves noisier and more vibration prone than they need be.
If you doubt that statement, strap one of today's modern Great Northern Adjustable-Length Bowquivers on, say, a 1960 Kodiak, adjusting the hood-to-gripper distance to about 17 inches, (which is over twice the distance of the Leathercap's 8 inches) and shoot the bow. You will be amazed at how much quieter and more vibration free the shot is when your arrows are better supported by a longer, modern-day bowquiver like the Great Northern.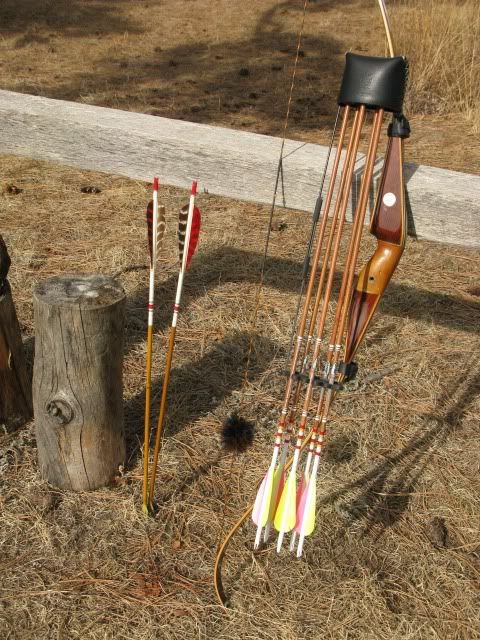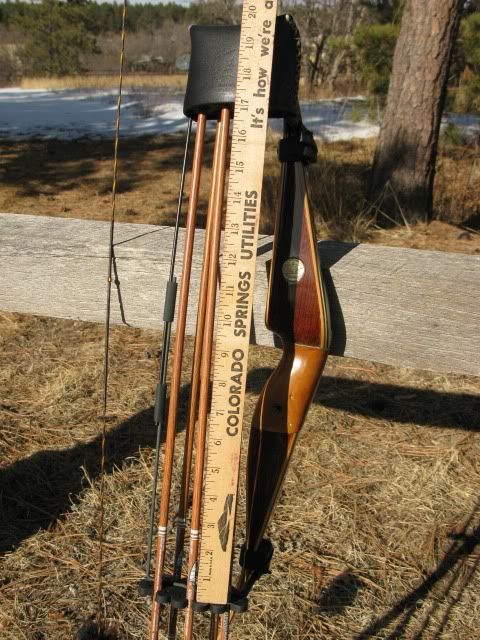 In the following photo a classy 1960 Kodiak wears a Great Northern quiver (left), while an equally refined 1959 Kodiak (right) sports a vintage Bear 4-arrow Leathercap Bowquiver. Note the dramatic arrow-support difference between the two quivers.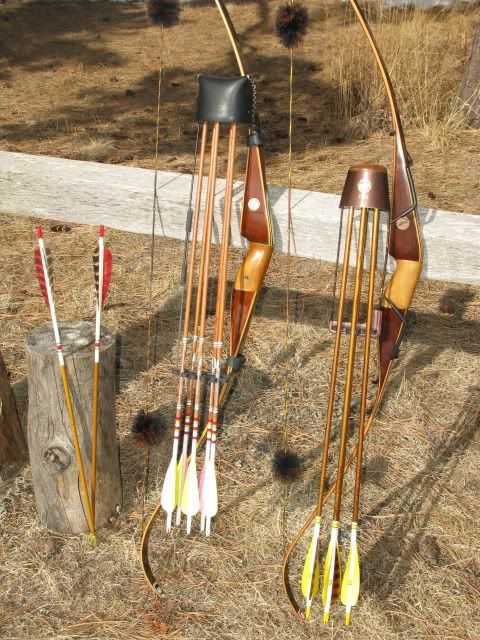 ATTACHMENT
– Bear Archery 4-arrow Leathercap Bowquivers were offered in three different attachment styles: double-spring-arm mount (left), single-screw mount (middle) and tape-on (lower right).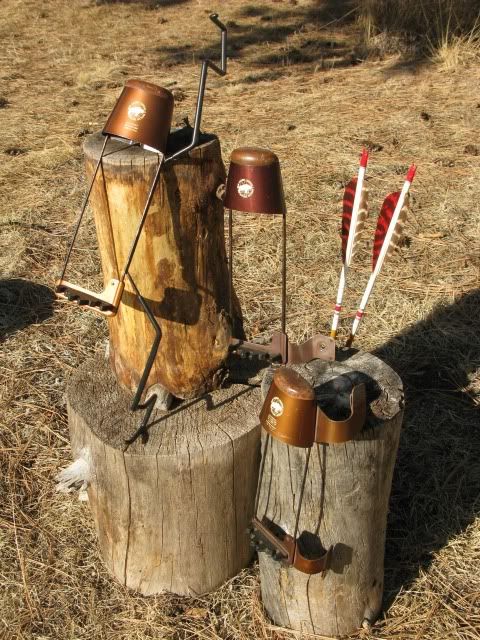 While wonderfully cutting edge in their day (50 to 60 years ago!), none of those styles are ideal on a hunting bow today, in my opinion. The single-screw versions are ultra-classic, but hardy solid and unmoving on the bow. The tape-on models, with some careful bending and adaptation to Velcro or rubber straps, can be made to mount quite well, although they still serve up the same length-related vibration issues. The popular spring-arm configurations do make it convenient to attach and detach the bowquiver to a bow, but they just don't mount all that well - the springs arms can be noisy, they can move around with repeated shooting and they can mar already-old bow limbs.
WHAT TO DO?
The vintage Bear 4-arrow Leathercap Bowquivers look spectacular. They always have.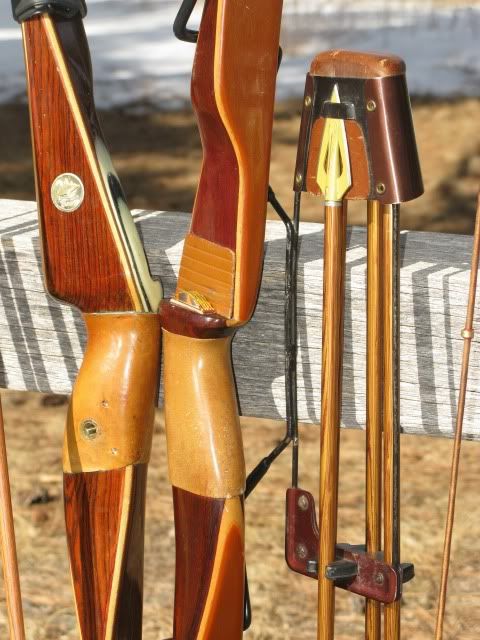 But, unfortunately, they just don't perform that well when compared head-to-head with today's longer bowquivers that mount more securely to the bow.
One option is to simply use a Great Northern Adjustable-Length Bowquiver (
http://www.3riversarchery.com/product.asp?i=5074X
). That works. I've done it. The GN bowquiver mounts tight as a bank, is quick-detachable, never moves and is joyously vibration and noise free. Glue an old gold Bear Archery coin on the Great Northern hood as a tip of the hat to Fred Bear and you're good to go.
The other option is the real reason for this thread.
Would it be possible, do
YOU
think, to replace the old, too-short wire framework on an old Bear 4-arrow Leathercap Bowquiver with a longer wire framework for the expressed propose of eliminating arrow-shaft vibration? And could that new frame even be made adjustable like the Great Northern frame? That would allow the old/new Leathercap to be adjusted to perfectly fit any old Bear recurve.
And, at the same time, could the quiver's mounting system be upgrades to the Great Northern rubber strap system? I wish those GN straps were a more-vintage-like brown color, but we can get by with black.
Now, here's what I wish someone would do – call themselves "QuiverDoc," perfect the process of converting an old Bear 4-arrow Leathercap into a better performing bowquiver as outlined above and begin offering a service whereby one could send in an old Bear Leathercap quiver with the appropriate amount of money, and receive back a "modernized" Bear Leathercap, lengthened, with a new mounting system and ready to hunt. Or offer kits with do-it-yourself instructions and all the necessary new hardware.
Is there anyone out there handy enough to give this a try…and maybe launch a nifty little side business. QuiverDoc! Any metal-handy volunteers?
What do
YOU
think? Could this work? Could we create a modernized Leathercap bowquiver that looked as good as the old Bear Leathercap, but performed so much better?
Your thoughts and input please.