Every year, about this time of year, I go nuts.
That's because I want so badly for spring to finally be here. I ache to get out, hike and shoot my vintage bows. But springtime on the Colorado Rockies frequently comes in fits and starts. Last Wednesday and Thursday it was sunny and over 60 degrees. I went on long hikes in the thawing hills after work. Then on Friday, just like that, another winter storm slid over the mountains and pounded us. It snowed sideways here yesterday, dumping about 6 inches of wind-blown white stuff on everything once again. Rats! I'm sick of winter and snow, although it does put mule deer in the yard amongst the targets.
But fortunately, today dawned sunny and clear once again, and with the sun and warming temperatures I decided to shovel out at least one backyard target just off the back deck and shoot a batch of vintage Bear and Ben Pearson bows no matter what.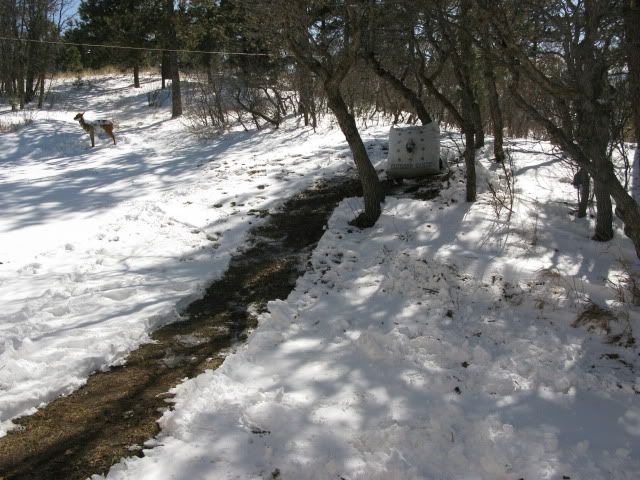 Collecting vintage bow, inspecting them, handling them, cataloging them and displaying them is a great way to learn more about the history of archery. But in the end, you really don't know all there is to know about the vintage bows until you string them up and actually shoot those old bows yourself. How smoothly do they draw, what sort of handshock do they impart, how well do they spit out an arrow? Those things are all subjective, but they sure are fun to explore.
With the snow stopped, the sun shining and springtime seemingly just around the corner, that's what I did today. The wife was in town doing who knows what all day. The kids were gone. The grandkids were scarce. Just the dog and me, a shoveled path to a 20-yard bag target and six cool old bows. Heaven!
To avoid shoveling any more than absolutely necessary (!), a lawn chair on the back deck made a fine bow rack.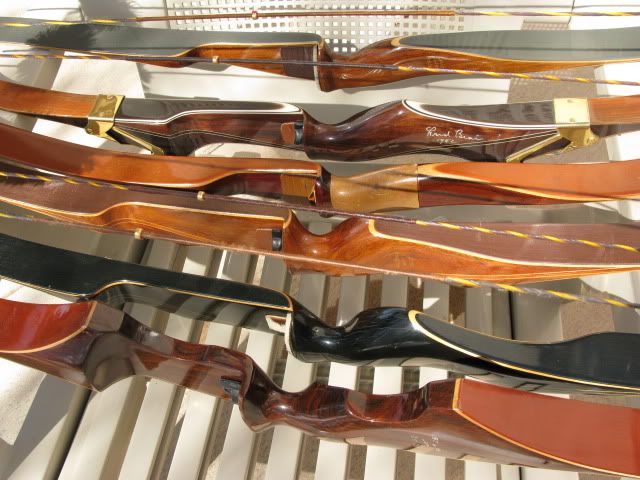 The bows selected to teach a history lesson today included (back to front in the chair):
• 1962 Bear Kodiak – 60" and 50#
• 1982 Fred Bear Signature TD – 60" and 55#
• 1959 Bear Kodiak – 60" and 55#
• 1966 Bear Kodiak – 60" and 51#
• 1967½ Bear Kodiak - 60" and 45#
• 1970s Ben Pearson Mercury Hunter - 60" 45#
The task was to shoot said bows head-to-head with a big bunch of identical arrows, comparing how bow draws, reacts at the shot and delivers arrow downrange. I figured this would be a tough job, but someone had to do it.
With no burning desire to get overly scientific, my main goals were to dose my cabin fever and, at the same time, reminds myself once again just how well the better kept of 40- and 50-year-old bows still shoot. In fact, I am often amazed at just how little such vintage bows give up, if anything at all, to today's highly touted whiz-bang recurves.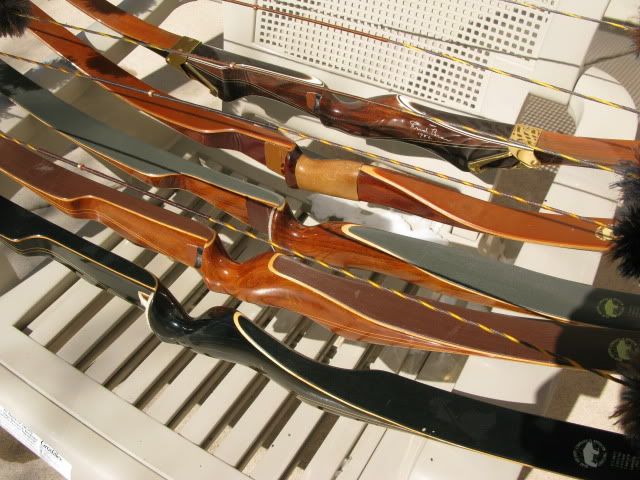 Still, I did "work" at trying to answer some questions.
Which bows, in this particular batch, seemed to
draw the smoothest
all the way out to my 28.5-inch draw length and then a bit beyond? My 1959 Kodiak proved a bit of a comparative surprise. It's silky smooth all the way back. So was the Mercury Hunter and the 1966 and the 1967½ Kodiaks. Silky-smooth 60-inch bows all.
My 1962 Kodiak exhibited just a wee bit of stacking past 28 inches. That when compared straight across with the other bows. So did the ultra-classy Fred Bear Signature TD with its original yew-core limbs. Neither are bad, but that slight stacking it there nevertheless.
Which of these bow had the least
amount of handshock
upon release? Before test shooting, I set up and tuned each of these 60-inch hunting bows with a Dacron bowstring and an optimum brace height between 7-6/8 inches and 8 inches. Not surprisingly, in every case the heavier mass-weight bows had the least amount of handshock. The two lightest mass-weight bows– the 1959 Kodiak and the 1962 Kodiak – both demonstrated a bit of sting not found in the heavier mass-weight bows. I find the best way to combat and control that is with a bit firmer grip on those bows than the others. With that they shoot fine.
How about what I'll chose to call
shootability
? This really gets subjective! Admittedly, what works best for one archer may not hold true for the next. In term of 20-yard accuracy, I had to admit to myself after nearly five hours of glorious uninterrupted shooting (except for an elk-sandwich lunch) that on this day I would place these six, very specific vintage bows in the following accuracy order, with the most constantly accurate bow for ME at the top.
1. 1966 Bear Kodiak
2. 1982 Fred Bear Signature TD
3. 1970s Ben Pearson Mercury Hunter
4. 1967½ Bear Kodiak
5. 1962 Bear Kodiak
6. 1959 Bear Kodiak
Does that mean that's how I would rake them in terms of bows I prefer to shoot and use for bowhunting? No, not necessarily. I dearly love shooting my re-tipped 1959 Kodiak and that elegantly trim 1962 Kodiak as well. Heck, I thoroughly enjoy shooting them all. But on this spring day, this is how they threw arrows in my hands.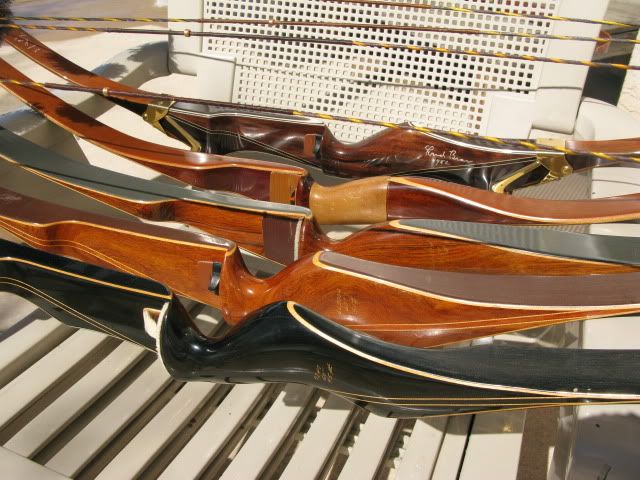 What does all this mean? Did I totally waste a day playing with old bows? Was the snow-bounced sunburn I got worth it? I know my wife it going to ask what I did all day. I'll probably concoct some elaborate answer about a tough day, testing and learning more about the history of archery.
Have
YOU
already shot or are you getting ready to shoot some of your vintage bows outdoors this spring? Which bows do you plan to drag out in the sun, how soon and what do you plan to accomplish?