Ok so finally we are going to get this kicked off . 2 months behind , I know but it could not be helped .
So do to complications and back orders , we will have to change the rifle we were going to work on.
So instead of the Hudson valley fowler , were going to do a plains style rifle . We are not copying anything in particular with this rifle . But we will incorporate the likes of several different rifles .
So here are our general requests .
1) swamped barrel in 54 cal
2) percussion lock
3) double set triggers
4) half stock
5) patch box
6) iron hardware
7) simple stock , light carving , dark stain .
So for a base we chose the Hawkens rifle from Pecatonica river ..
A Note here about Pecatonica. I find Dic simply wonderful to deal with . I have always gotten better then what I expected and have never ran into an issue with delivery times .
This parts assembly was ordered a couple months back and was in fact at my shop within 10 days .
.
Now past that original Hawkens style base , we have substituted the start octagon barrel for a GM C profile swamped barrel . This will call for the need of pouring our own nose cap from pewter . It will also require the custom fitting of an under rib .
For the patch box we will do a nice pineapple style clam shell type box .
Ok so lets get started shall we .
First thing we need to do when we open the box is to lay everything out and double check the invoice .
Make sure everything on the list is there AND make sure everything you ordered is on the list .
If you have ordered a standard rifle parts assembly from a retailer. Then double check the invoice with the listed , needed parts , either in there catalog or on their web site..
Now once all the parts have bin confirmed and a list made of any missing parts , we can start looking over what we have ..
Start with the stock . Look it over closely . I know of no company that will not replace a stock do to a defect. However that's before you start working on it .
Now the next thing I look over is the lock ..
Cock it . The main spring should be good and strong . Look closely at the bridle that holds the tumbler .
It should not be bent . The tumble should ride true to the pivot hole and not wobble . Look at the area around the tumbler . A quality lock will have the inside cleaned up "not overly polished " but nice enough that you can se if the lock drags. If you see any of that send it back .
Now this may seem harsh , but lets put some things in prospective here .
Chances are your not a gun smith . While you are building a gun you are not expected to need to make any mechanical modifications so as to make something work properly . You just paid 125.00+ for a lock that you should have to do nothing to but alittle polishing and some casting line removal. You should NOT be having to work on tumblers , sears and such .
Next we move on to the triggers .
Depending on the trigger set , there isn't much here . But if you using a double set trigger . Now is a good time to see how they work and that you have the trigger set you wanted .
Not all double sets are the same . Some are designed for target shooting . Others for hunting .
So how do we tell the difference ?
Well its pretty simple . A double set that designed for hunting , can be set to fire from the front trigger without setting the rear . This is good for when your wearing gloves and don't want that hair trigger .
. Now in order for the trigger to be able to that it has to have side by side , or over lapping triggers .
IE the triggers engage each other on their sides not on their ends .
So lets go over the trigger a bit here .. To show you what I mean
For Bryans rifle , I have chose to use a Davis double set trigger . I like this trigger because it's a set that can be used either for hunting or target . it's a strong trigger and can be tuned to be dangerously light in the pull once set . Thus its also very good for target shooting .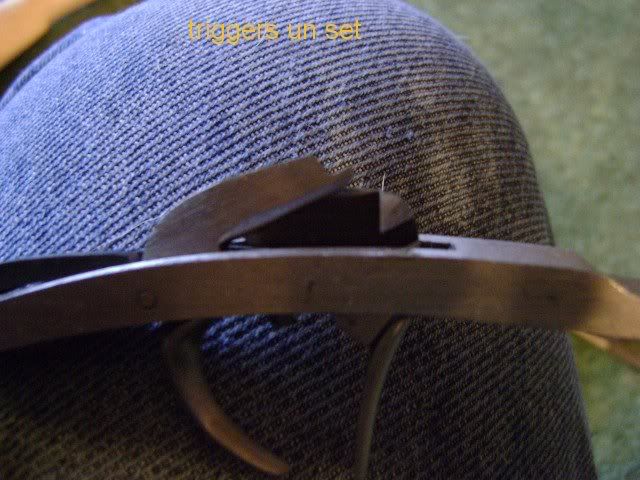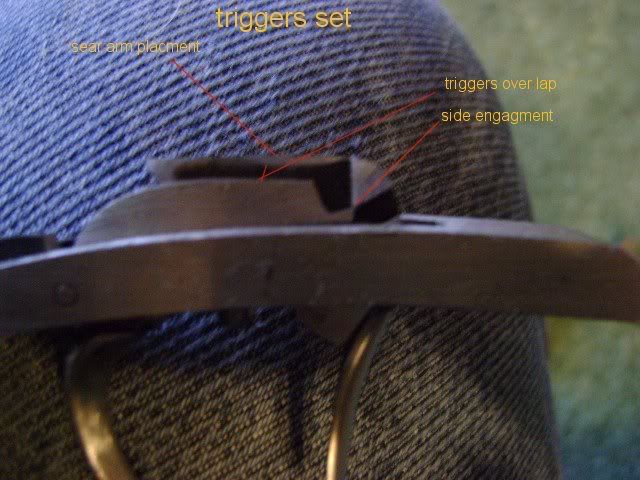 Now notice that with the triggers set to the stock so as the sear is in the above marked location . Both triggers will come in contact with the sear . This allows the trigger to work in both applications .
Ok so now lets move on to the barrel . a lot of new folk as about swamped barrels . . They are confused about just what swamped means .
Well simply put , swamped is a profile . Just as a strait or tapered barrel is a profile
Strait = a strait line to the profile of the barrel from breech to muzzle
Tapered = the breech area is larger then the muzzle . IE the barrel tapers
Swamped = a profile where the barrel muzzle is smaller then the breech . Yet larger then an area that's between the muzzle and the breech .
Where that area is as well as how much smaller it is , defines the swamped profile . IE A, B or C profile ..
. So what does a swamped barrel do ? Well basically the same as a tapered barrel . it's a way to reduce weight and provide a broader range of balance options
Most all Early rifles"18th century " all carry a swamped or tapered barrel . However on 19century plains rifles , the strait barrel is far more common .
So here is the barrel of Bryans rifle . it's a GM 54 cal with a C profile .. I have set his RR along side the barrel so as to give you an idea of the swamp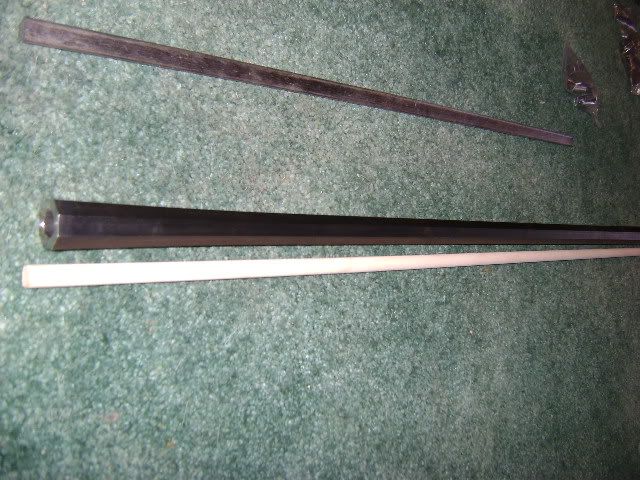 Ok so from here we go to the hardware . Notice the casting spurs. These will need ground off as well as the casting lines . HOWEVER don't get in a big hurry in doing that . Depending on the rifle your working on , you need those spurs on the Trigger guard and in some cases even the butt plate ..
So just note that they are there and set them aside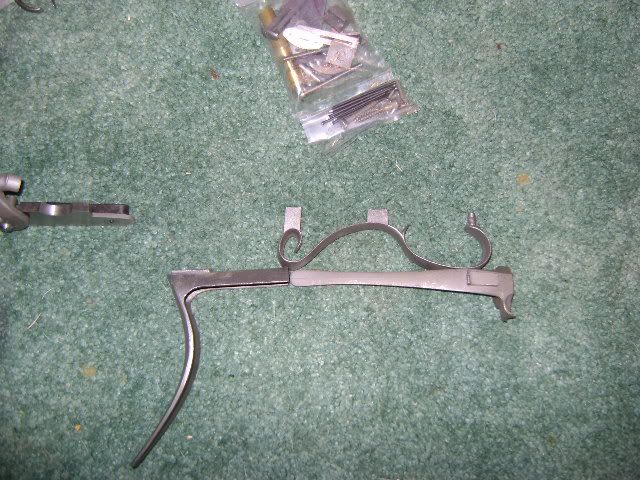 Ok so lets take a look at the patch box .
The first thing you will notice is that its probably in pieces . Sometimes with the Dixie type boxes , you get them assembled . But most times not .
Myself I prefer them not to be assembled . Reason is , that I never know the curvature the lid will have to fit . Its much easier to adjust things and then solder it up ,.
Here is out complete parts , all laid out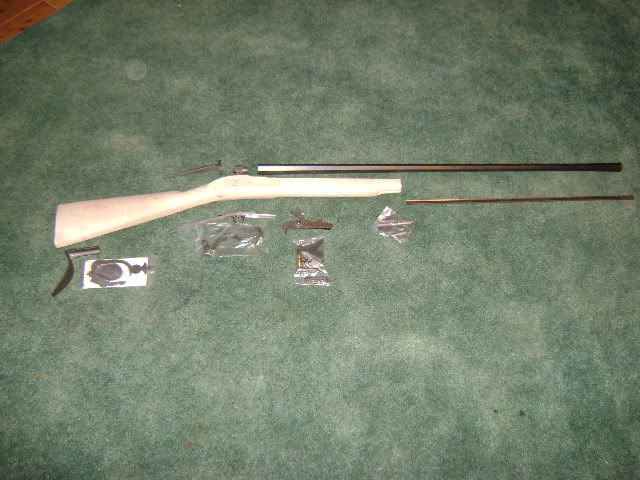 Now before we start our build here , lets go over a few more things .
Most of you have read where I say , paying for inletting is a waste of money because what gets don't is the easy hogging out and your left with doing the work that really is going to show .
So lets look at this stock .
When I by a pre-carve I have the barrel channel and RR hole drilled .
Now with Bryans rifle we have a swamped barrel . Pecatonica has a charge to do that . .
But they don't charge to inlet a strait barrel , that comes with the assembly.
. Either way your still going to have to inlet the tang and breech area .
So what I did in this case is take advantage of what Dic does at no charge . I had him cut the barrel channel for a strait barrel that's diameter was 1/8 smaller then the narrowest part of the swamped barrel . Now all I have to do is enlarge the channel to fit the swamped barrel ..
If you pay for inletting from say ToW . You WILL get the very same thing you see here . Your still going to have to inlet the tang and breech .
Same goes for the lock . You will have to again inlet the lock plate and deepen what ToW has done . So I ask you why pay for something you will have to do any way ? If they do it for free , that's one thing . But charging you ??? .
Save your money and use it on something else .
Here is a photo of the breech area of the pre carve stock . . As you can see , you will be doing some inletting . Now ask yourself . If you just paid 35.00 to have the parts inlet and you found you still had to do this , ?????/
The ONLY place I know that does a true inlet job is jim chambers .
that's unless you order a gun in the white .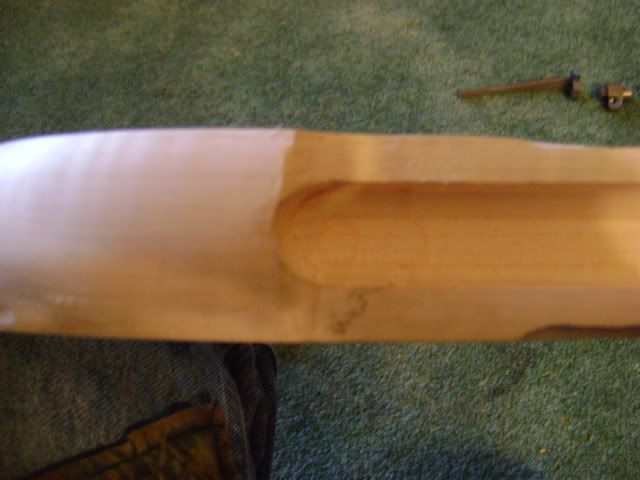 .
Ok so lets start .
First consideration that we must take into account with a parts assembly, that's based off a pre-carved stock , is the lock placement.
Now in the build books you will read to inlet the barrel , then inlet the lock . While this is true for a plank . With a Pre-carve , the lock mortises have already been defined . As such before you start setting the barrel .
Make sure you have enough room to fit the lock into the given mortise. If you don't then the lock dictates where the barrel will have to set .
As you can see . In our case Pecatonica has given us a very large mortise to work with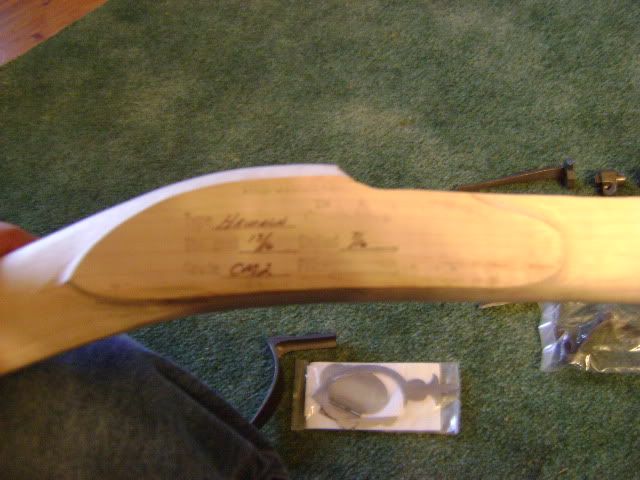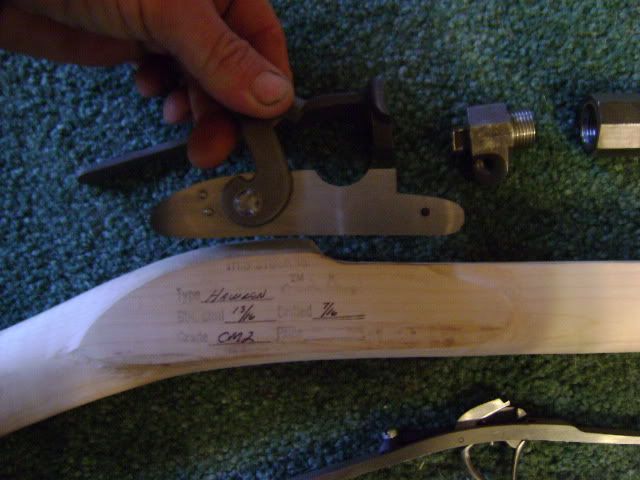 Thus we can start on the barrel .
Now our barrel came un breeched . I always chose to do this myself . The reason is I want to know that the breech plug has been properly set to the face . I cant tell you how many times I have removed plugs to find them not faced .
I will also say . I hate facing a plug more then any other part of building a rifle . But it must be done .
Here is why .
First lets look at out plug . Notice that it's a improved type plug . For those who have been wondering what an inproved plug looks like , well here it is . Notice the chamber in the plug . If this was not an improved plug the flash hole would come out to a flat face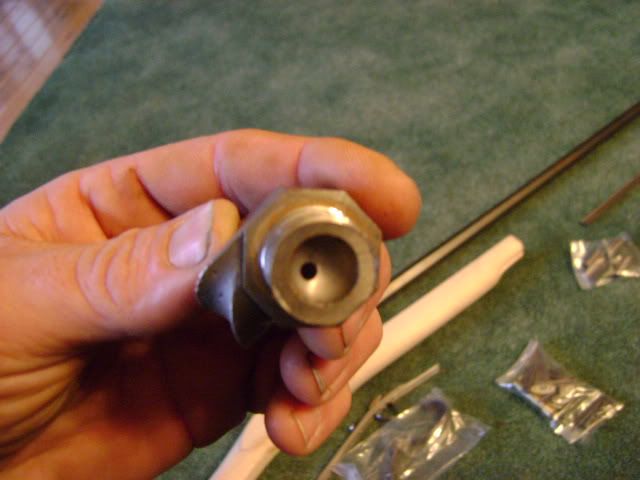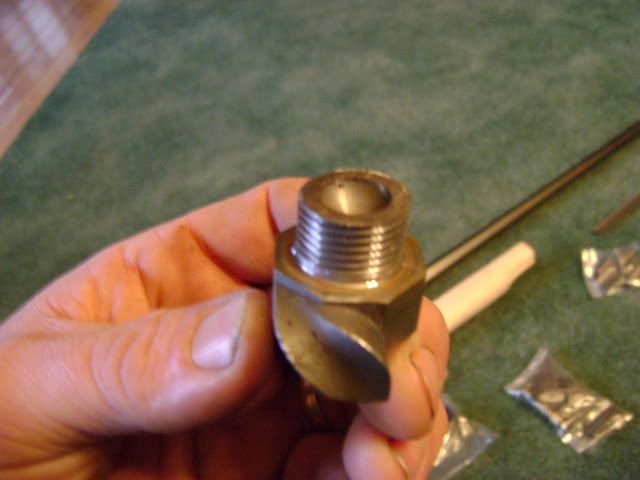 Now lets say you took that plug and just screwed it into the barrel , tightened it up to where the flats matched and called it good .
1) the bore may not have sealed anywhere but along the back edge of the barrel
2) you may have exposed threads forward of the breech face , that will collect fouling that will not get cleaned out . Over time the fouling will corrode the threads . Because those threads are also exposed . That fouling has a direct un restricted line all the way back to where your plug sealed , "IF " it sealed .
So let me show you here what im getting at .
In this photo I used my micrometer to check the depth of the threaded area of the barrel .
" back of the barrel to face "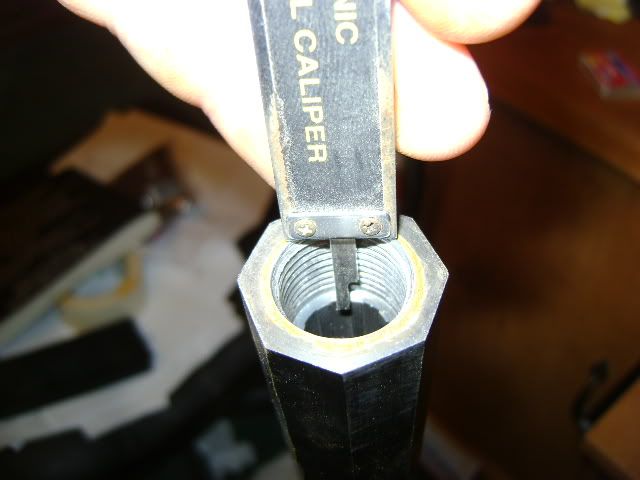 Now lets compare that to the length of the threads . To the shoulder of the plug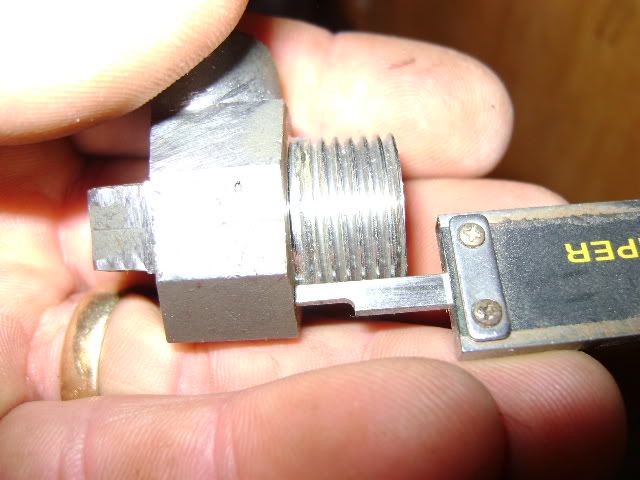 As you can clearly see . If I had just screwed in this plug , we would have a good 1/8 + of threads exposed .
So now what I have to do is slowly remove material from the back of the barrel tell such time as I can get the plug to mate to the inside shoulder while at the very same time , mate to the back edge of the barrel and match the flat of the barrel .
This takes time as you 3 places must touch all at the same time .
If the case was that the plug threads were longer then the treaded area of the bore . Then we would need to slowly shorten the plug and not the barrel .
Either way , go slow . Test the plug often .
As you can see . Im using a combination of inletting black and my micrometer , to slowly bring things together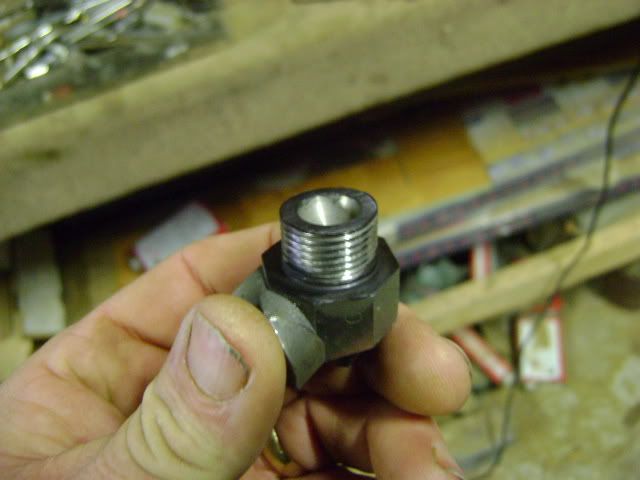 With this rifle we have a hooked breech so now we must fit the tang to the barrel .
Again we do that just as if we were inletting anything .
A little inletting black . Remove alittle from the part . Try it again , remove alittle more .
Until such time as the parts come together to a nice fit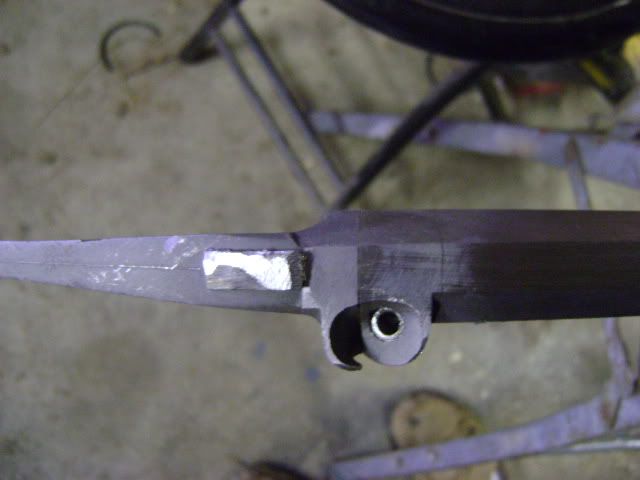 Now we can bring things down and blend them together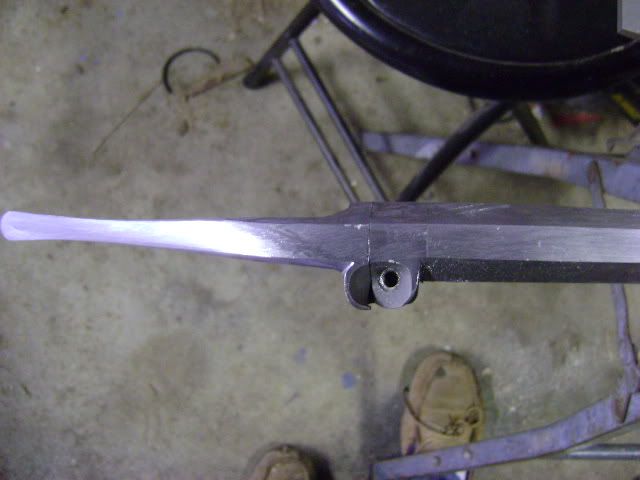 Ok so next the next step is to inlet this into the stock .
So next time , ill be going over that